Hello everyone, We had a fairly busy day today. We had our appointments from 8:30AM till around 1:00PM. They put some markers on me for the MRI that I had to wear all day. It made me look like I had lifesavers stuck to my head.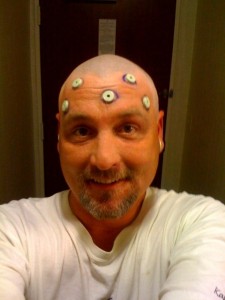 After that we went and ate at a place named Two Rows in Rice Village. It's a great place to get a burger and watch some sports. Kim and my mom shopped and I just sat around and relaxed by myself. My sister flew in at 6:00 tonight so we ran to the airport and picked her up. We hung around the hotel for about an hour before we had to head back to the hospital so they could do the MRI. The MRI was scheduled for 9:00PM but they didn't start until almost 10:00. We finally got back to the hotel about 11:30PM. So that's why I'm typing this so late.
As for tomorrow goes we are supposed to be there at 5:15 AM for the surgery check in. Surgery is scheduled for 7:30 AM so by the time you read this I should be in surgery. It's supposed to last about 4 hours so hopefully someone can post a quick update after surgery. I'm going to have to stay in the ICU the first couple of days but Kim will be able to stay with me.
I'm going to quit typing so I can try to sleep a couple of hours. I probably won't be on again until Friday sometime so until then you people get to work and get something accomplished.
Love, Cudd